Commercialisation Services
At Australian Healthcare Solutions (AHS), our thinking and service provision is underpinned by a deep understanding of the medical device commercial landscape and technology lifecycle.
Years of experience in medical technology have cemented the understanding that commercial success of a technology or therapy is indeed a journey.  The pathway to success is unique for each therapy and geography and requires a strategically planned set of interrelated steps.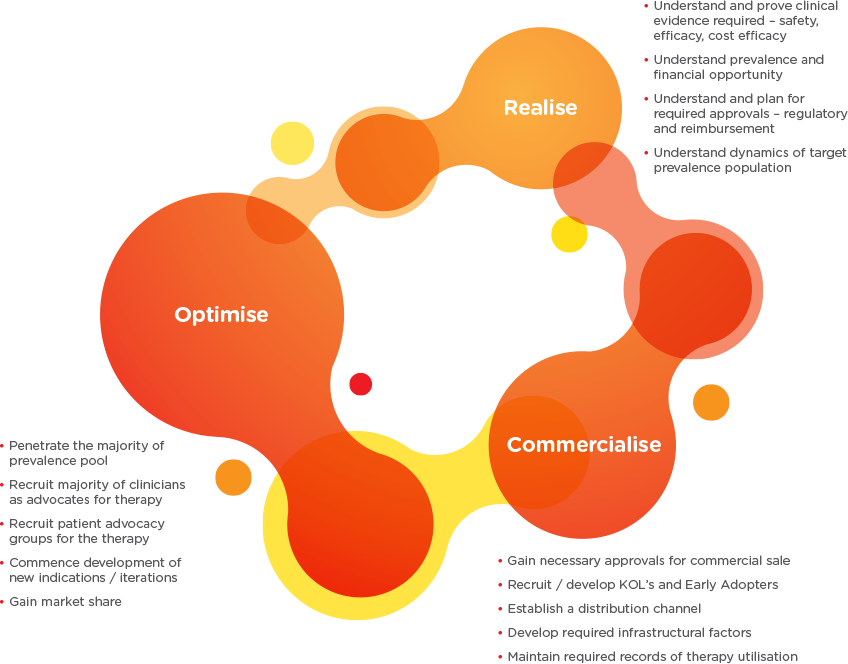 Pre Commercialisation
At the core of AHS services is our Clinical Trial Services.  Quality clinical evidence is the foundation for all successful medical device ventures.  We work with many medical device companies in the early start up phase as their CRO and by providing experienced Field Clinical Support for their trials.
At Australian Healthcare Solutions we fully appreciate the challenges of getting a device to market.  With time to market a crucial consideration, companies need to be thinking ahead.  So during the clinical trial phase, the next steps to commercialisation with Regulatory and Reimbursement submissions should be planned for.
At AHS we are able to provide a continuum of services with our network of key area experts.  Our Regulatory and Reimbursement consultants are medical device specialists and experts in their respective fields in Australia.
See these pages for more information:
Commercialisation / Potential Realisation
Our years of experience with medical technology have led to an intimate understanding of what enables or hinders successful progression of a medical device or therapy through its lifecycle.
AHS has a strategic methodology and formal modelling tools, developed to assist companies to work through their Strategic Market Development.  This strategic methodology provides an objective way to assess the current status of a technology, identify strategic gaps and develop strategies to progress the technology through the lifecycle phases.
For more information on our workshops go to:
"At Australian Healthcare Solutions, we approach the commercialisation journey at both a macro and micro level.  We consider the pathway of the technology along the entirety of its lifecycle, while our experts in the Australian market provide a continuum of services throughout the commercial pathway."